EPACAD – AutoCAD to EPANet
A colleague wanted to convert an EPANet file to an AutoCAD drawing. After having a few issues with the DXF2EPAutility he found anothe program for this task – EPACAD.
EPACAD, by the ITAresearch group over at the Universidad Politecnica de Valencia, is a free software which can converts an AUTOCAD file into an EPANET one. EPACAD is able to automatically import the main properties of elements.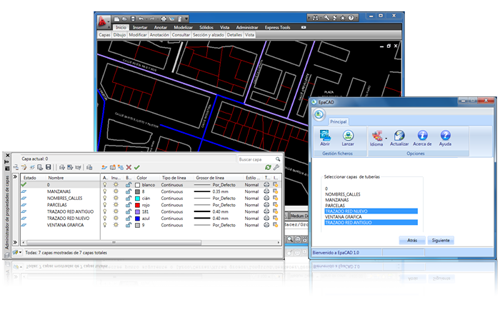 EPACAD features include:
EPACAD can upload a .dxf exported from AUTOCAD. You will only have to select the layer (or layers) containing the pipes of your hydraulic model to start building your network. As other programs, you needn't change your AUTOCAD file.

 EPACAD is able to read X, Y coordinates of AUTOCAD files and also elevation of nodes (which are the ones describing your pipeline). So, you will get real lengths of your pipes and a reference of the current location of your items.

No matter how you draw your pipes in AUTOCAD, EPACAD reads both lines and polylines. Moreover, You can also create two nodes per line (regarding to initial and final node of the pipe) or, considering all the intermediate vertices of the latter in order to edit them later using EPANET.

One of the most common problems deals with the connection between pipes issues (due to the inaccuracy in the AUTOCAD files). So, we have developed a useful tool that enables you to automatically solve the connectivity between elements, just setting the allowed distance between independent elements.

Before exporting your results to EPANET, you will find a preview of the scenario. There will be some visualization tools to help you to identify small details. This tool will save your time as you can validate your results before final creation of your network.
EPACAD web site and user guide.
Related posts: