EPANET-Z – add online maps and satellite images to EPANET
Update 11/09/2018: for some time now the application does not work due to changes in maps APIs.
EPANet-Z (in free beta) from Zonum Solutions is a modified recompiled version of EPANet that adds the option to insert map and satellite images to the network's backdrop. The program uses online services like Yahoo maps and Google maps to extract the images. From Zonum's web site:
The use of a backdrop file brought new capabilities to EPANET. However, how do I create this file? how big this image can be? Is it already georeferenced? How about using an aerial photo or satellite image as a background?

What would you say, if you were told that you could access satellite images for the whole World and use them as a backdrop for EPANET, just by clicking a button?… I would say EPANET-Z.

EPANET 2.00.12 (3/5/08) was modified and re-compiled to display Online Maps/imagery as a background. EPANET-Z = EPANET + Online Maps (Yahoo Maps, Google Maps, Virtual Earth)
I have entered a small part of my neighborhood network to the program. Unfortunately the satellite image in my region is of poor quality (click the image to enlarge):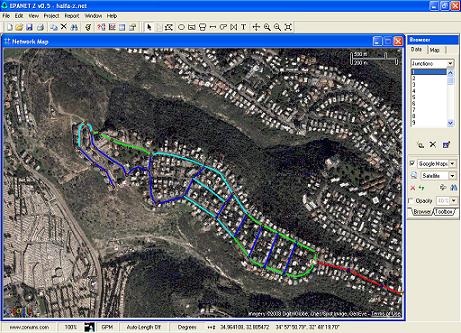 Update 20/08/2010: for some reason the download link at Zonum Solutions for EPANet-z is broken. You can download it from here.
Related posts: