Identify the datasets contest – the results
About a month I asked my readers to identify data-sets of digital and analog inputs of two sensors I connected to an iobridge  IO-204 Monitor and Control Module. I offered a prize of 100$ to the first correct answer.
I got a few guess:
toilet flushes and chlorine concentration (Jean-Baptiste)
room temperature and thermostat or smoke alarm (Luke)
room temperature and air conditioning On/Off switch (Gil)
water pressure and zone valves (wayne byal)
water pressure and start/stop of a pumping station (Nuno Dias)
water temperature in the water heater tank and heater status (omargut)
And … the resualts are in – on one got the full answer correct 🙂
As Jean-Baptiste noted, the Digital Input indicates toilet flushes. Luke guessed that the Analog Input is room temperature and he was almost correct – it is the water temperature in the toilet (omargut did say it was water temperature).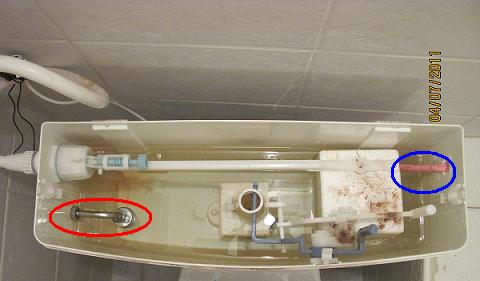 On the right side (red circle) is a stainless steel liquid float switch water level sensor (DI) and on the left side (blue circle) is a temperature sensor inserted in a balloon to protect the electric connection.
The logic behind the data is simple. If the toilet is not flushed for a long time, the temperature in the tanks will generally follow the room temperature.  When the toilet is flushed (change in the digital input), new water flows into the tank. If the water temperature in the house pipes is higher than the room temperature then we will see a quick rise in the analog data (and vise-versa). Now, as time goes by, we will see a gradually decrease\increase in the analog data as the water in toilet's tank cool\heat.
The winners: well, as I wrote above, no one got it right. However, Jean-Baptiste and omargut were the closest so I guess I will split the prize between them.
Related posts: