Pipeline Studio
From Energy-Solutions:
pipelinestudio is the industry-leading tool for design and off-line simulation of pipeline networks. It features:
* Quick and easy project setup
* Advanced hydraulic models for liquids and gas
* Steady-state and transient simulation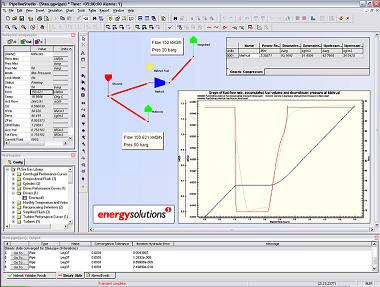 pipelinestudio improves the efficiency and accuracy of offline planning and design simulation through advanced offline simulation techniques for both natural gas and liquid pipelines. Through techniques such as steady-state and transient hydraulic analysis, pipelinestudio delivers a consistently higher quality of business decision, enabling better financial performance. And once pipelinestudio has constructed an offline engineering model of your pipeline network, the same model can be embedded into custom applications to enhance specific business processes and your financial performance overall.
pipelinestudio is flexible enough to consider your pipeline network as a whole and includes variables like demand forecasting and gas nominations. Its familiar Windows graphical interface makes it easy to use and pipelinestudio integrates with GIS and other corporate databases and applicationsג€"including other Energy Solutions products.
Use pipelinestudio for:
* Planning, strategically or for facilities
* Analyzing hydraulic characteristics
* Designing pipelines and equipment
* Modeling for predictive purposes
* Simulating situations from existing data
And pipelinestudio can help operators see the effects of operational changes without having to actually go to the control room. By studying the simulated results of proposed operating actions, quality decisions are promotedג€"realizing bottom-line savings through attractive maintenance savings and opportunity cost avoidance.
For more information see Energy-Solutions web site.
Related posts: