BOSS International released two updates:
Multiple River Reaches in RiverCAD XP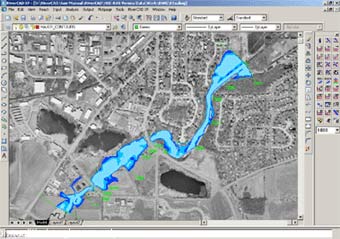 RiverCAD XP now fully supports multiple river reaches allowing you to model dendritic river networks. RiverCAD XP fully integrates with LDD and Civil3D software.
RiverCAD XP for AutoCAD is a sophisticated river modeling software that completely automates HEC-RAS and HEC-2 within AutoCAD. Its slick GUI interface is intuitive. RiverCAD XP for AutoCAD works within AutoCAD versions 2000 through 2007. Graphically cut cross sections, generate floodplain maps, automate floodway delineations, compute bridge scour, and more.
Rational, Modified Rational Method, TR-55, TR-20 released in StormNET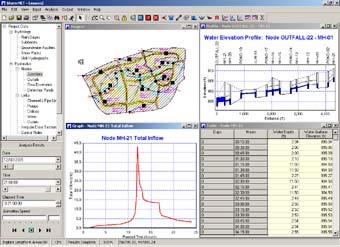 StormNETג"¢ now supports Rational, Modified Rational, Santa Barbara Unit Hydrograph, as well as TR-20, TR-55 and SWMM. This new version has completely new advanced graphics, allowing you to easily compare existing versus proposed conditions, and also provides automated pond sizing.
StormNET is the most advanced, powerful, and comprehensive stormwater and wastewater modeling software available for analyzing and designing urban drainage systems, stormwater sewers, and sanitary sewers. StormNET is the only model that combines complex hydrology, hydraulics, and water quality in a completely graphical, easy-to-use interface. Both imperial and metric (SI) units are supported.
StormNET enables accurate routing in complex detention pond situations. In some situations, downstream conditions can cause backwater effects that influence the performance of a detention pond outlet structure. For example, an upstream pond may discharge to another downstream pond that is similar in elevation or influenced by downstream flooding. Such situations can result in a decrease in outlet discharges or flow reversal back into the pond and can be difficult to model properly. StormNET's interconnected pond routing allows you to easily model these complex situations with confidence.
For more information see BOSS International web site.
Related posts: