MLOG – Leak Detection System
From FlowMetrix web site:
The MLOG concept
The MLOG sensor is a low-cost, battery powered waterproof sensor, permanently installed near a water service meter.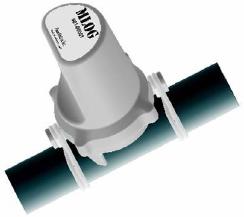 MLOG sensors are installed by field crews, working from an installation plan developed with the MLOG software program. Installation can advantageously be performed on the same schedule as meter or Automatic Meter Reading (AMR)equipment.
MLOG Analysis
Every night each MLOG sensor records vibrations over a period of 4 hours. The recordings are processed to characterize evolving nighttime sound patterns over days and months. The processed patterns are stored in the memory and transmitted by radio on demand. MLOG PC software analyzes all available data from the entire distribution system and assigns each MLOG sensor a leak status.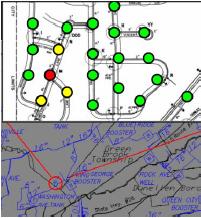 Leak Index
The Leak Index is the signal processing heart of the MLOG system. It is a number from 0 to 100, indicating the probability of a leak present at that MLOG sensor. Leak Status is derived from leak index which is computed from:
Recorded historical sound patterns
Analysis of a subset of MLOG sensors, with emphasis on unusual activity. The subset may be defined by geography, particular types of pipe, or any user-defined grouping of sensors.
Feedback from discovered leaks, entered into the MLOG software using Flow Metrixג€™s leak pinpointing tools. The MLOG software is able to refine the definition of a leak acoustic signature, improving the accuracy of leak identification, size & type.
One innovation of the MLOG system is the systematic, adaptive approach to characterizing leak vibrations. The MLOG sensor does not attempt to determine whether a leak is present but instead uses patent-pending signal processing techniques to model the vibration patterns present in its vicinity.
MLOG Color Mapג"¢
The MLOG software provides tools for:
Visualizing leak locations
Printed and electronic reports
Searching and sorting MLOG sensors by leak index, status and other factors
The MLOG color mapג"¢ plots the leak index over a geographical area, superimposing a solid color map from blue (low leak index) to red (high leak index) on a utility GIS map.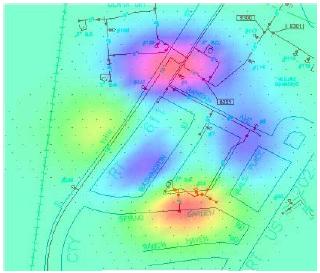 In the MLOG Color Map above, 2 areas of leakage are discerned. This image helps the pinpointing crews to deploy Flow Metrixג€™s leak noise correlating tools to verify 2 or more leaks.
For more information see Flow Metrix web site.
Important note: water-simulation.com has no contacts, of any kind, with Flow Metrix.
Related posts: