Down the drain – Chicago's Sewers
From the Chicago Public Library Digital Collection:
Beneath our feet lies a vast labyrinth of pipes and tunnels. These passageways, the sewer system, are central to the health of our community. Today most Chicagoans take the existence of the sewer system for granted. Yet for most of the City's first seven decades the defining struggle for Chicago's continued existence was not the Great Fire of 1871, but its battle with sewage. In the process, streets were raised; channels were dug; an industrial empire launched; tunnels bored miles beneath Lake Michigan; and new technologies invented.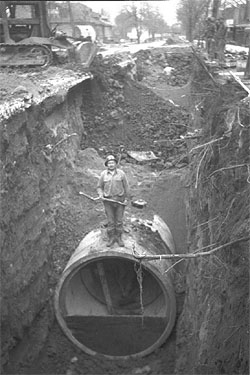 In 1900, Chicago took the astonishing step of reversing the Chicago River, making it the first river to flow away from its mouth. The feat was called one of the seven engineering marvels of the world. In 1922, the flow of a second river, the Calumet, would also be reversed.
To the present day Chicago remains a leader in the technology of urban infrastructure, just beneath our feet and down the drain.
For the full tour of Chicago's sewer system, past to present, click here.
Related posts: