HEC-RAS Version 3.1.3 Release
The US Army Corps of Engineers announced the release of HEC-RAS 3.1.3.
The HEC-RAS modeling system was developed as a part of the Hydrologic Engineering Center's "Next Generation" (NexGen) of hydrologic engineering software. The NexGen project encompasses several aspects of hydrologic engineering, including: rainfall-runoff analysis; river hydraulics; reservoir system simulation; flood damage analysis; and real-time river forecasting for reservoir operations.
The HEC-RAS system will ultimately contain three one-dimensional hydraulic analysis components for:
(1) steady flow water surface profile computations;
(2) unsteady flow simulation;
(3) movable boundary sediment transport computations.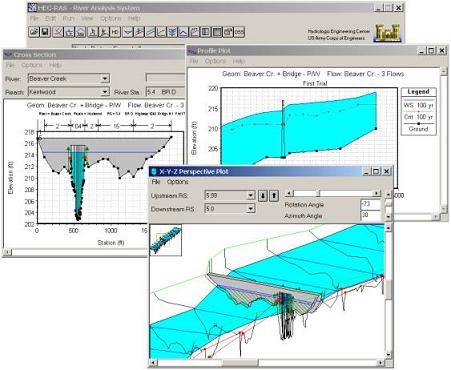 Currently steady and unsteady flow are available and sediment transport is under development. A key element is that all three components will use a common geometric data representation and common geometric and hydraulic computation routines. In addition to the three hydraulic analysis components, the system contains several hydraulic design features that can be invoked once the basic water surface profiles are computed, including bridge scour computations, uniform flow computations, stable channel design, and sediment transport capacity.
The current version of HEC-RAS supports steady and unsteady flow water surface profile calculations. New features and additional capabilities will be added in future releases.
For more information and download see HEC-RAS web page.
Related posts: