Hytran v3.0 – Water Hammer Software
From Hytran Solutions web site:
Hytran is a Windows software package for analyzing HYdraulic TRANsients or water hammer in pipelines. Intuitive Windows graphics enable a pipeline to be drawn, input data, edited and ready for analysis in minutes.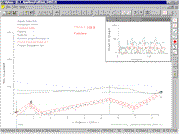 Click here to enlarge view

Hytran features:
Metric or English Units
Pipeline drawn with mouse
16 Boundary Conditions (BC's) pumps, valves etc.
No limit on the number of pipes, nodes or BC's
Pipe nodes may be snapped together
Drag and drop BC's to nodes
Comprehensive pump options (fail, start, shut, & run)
Rapid input to pipe data
Input data dialogs at a click
Visual indicator to show input data is required
Network can be drawn on an elevation or plan view
Zooming facilities
Re-number nodes & pipes
Valve database provided for head loss coefficients
Pipe database provided pipe materials
Import EPANET Network Data
Extensive online help
Software video Tutorial and Help
Free bonus software HyPlot which may be copied and redistributed to clients for re-playing the transients
Simple graphical editing of pipeline
Edit the pipeline and BC's at any time
Cut/copy & paste BC's to different nodes
Delete pipes and nodes
Try different BC's without having to edit external files
Extensive network checks to minimize errors
Running the transients
Hytran carries out extensive network and hydraulic checks to minimize and run time errors or false transients
Real time display of the instantaneous transients along pipe profile
View transients at different location in the pipeline network
Flow direction in pipes showing influence on transients
Column separation indicator when cavitation occurs
Extensive output plots and text listing
View transient plots anywhere at a mouse click
For more information see Hytran Solutions web site.
Reading for water hammer at Amazon:

Related posts: