AccuWater – EPANET web application
This is a guest post by Mark Wilson, founder of AccuModel.
Hello readers of the water-simulation blog. I am happy to announce the release of the first version of our first product AccuWater. This is an EPANET2 based water distribution system modeling software implemented as a web application. To help you understand why I would put time and resources into creating such a thing, let me give you a little background.

For the past ten years, I have worked in the water distribution system modeling and master planning industry. Six and one half of those years were spent working for a major modeling software vendor. While working for this vendor, I met with many utilities trying to get useful results from the time and money that they have invested in their model. I made many observations over this time period but two of them stand out to me. First, not every utility or consultant can afford expensive modeling software. Second, not every potential user of a hydraulic model has the patience to learn a full and complex modeling package.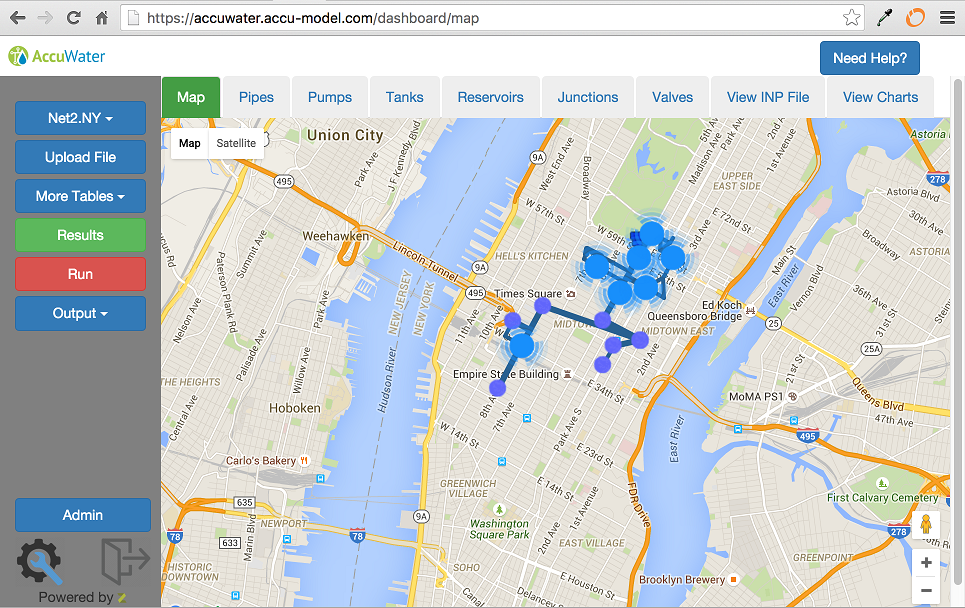 This is where AccuModel comes in, we think that there are many engineers out there that can make use of hydraulic modeling using an existing EPANET based model if there were only a cost effective and simple way to do the basic types of analysis that they are interested in. This is why we have created AccuWater.
Some of the many great things about AccuWater are:
It is simple to use
You can view and edit model data in a table format
You can easily search for model data from any table
It runs from a browser and thus there is no extra software to install
The interface is modern and colorful
Since it runs from a browser, it can be run from a tablet computer that is connected to Wi-Fi or cellular data connection
Computation is not reliant on the user's system resources, like a fast CPU or lots of memory
You can log into your model from any computer
Google Maps(TM) is used for the map visualization so with that comes street, aerial, topo, and hybrid background as well as Street View
The model is stored in the cloud so you don't have to worry about where you have stored your model on your local network or worry about losing the model if your hard drive fails
There is a free version
There is a subscription based AccuWater Pro version with more features
There is no initial investment to use the AccuWater Pro version. You get a free seven-day trial before you start getting charged an affordable monthly fee to use all of the features that AccuWater Pro users enjoy
I hope you will take the time to try AccuWater for yourself and see what you think. You can sign up at accuwater.accu-model.com and you can watch the tutorial videos on YouTube.
I have sample models that I can send to those that contact me that are ready to use to try out AccuWater.
Feel free to contact me through our website (accu-model.com) or directly through the AccuWater application to give us feedback.  We are in active development of many more great features.  If you would like to request or suggest a feature, please contact me.
Related posts: