WatDis, the Little Challenger
This is a guest post by Marcelino Rodríguez from Transparent Blue.
WatDis in short
WatDis 1.3 is a system for the analysis of water pressure distributions networks. The software allows engineers to evaluate the behavior of the pipe network and to evaluate its performance.
WatDis is able to model several hydraulic elements. Starting with simple components like demand nodes and pipes, it goes to more sophisticate ones like pumps, pumping stations, valves and tanks. Users can work with demands patterns to analyze the behavior of hydraulic properties (pressure, flow) in a given time period.
WatDis has two methods of hydraulic analysis: steady state regime and EPS (extended period simulation). Also is able to work with several head loss formulas.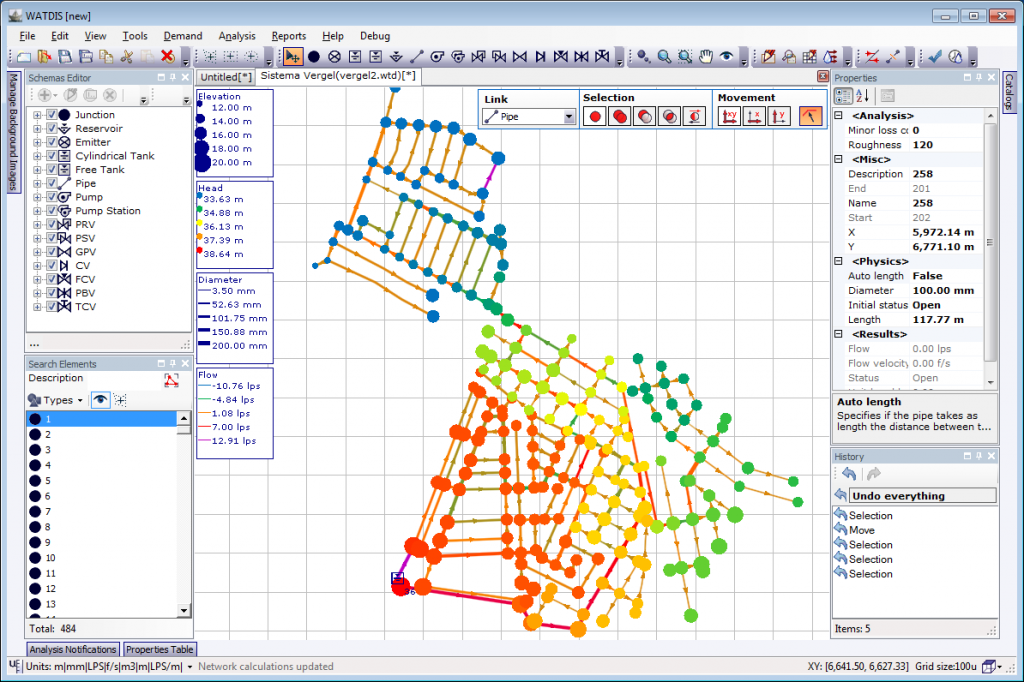 In summary, it's  a software like EPANet, but with many enhancements in his graphical interface, and includes modules that are not present in epanet, like the module to construct the network from shapes file, DXF or even excel.
Why should anyone use WatDis?
Well, several reasons:
It's Free to the current version (1.3).
Has a very powerful graphical interface. Only comparable to high end software on the market. You can zoom and pan with the mouse wheel, customizable floating panes, easy creation of links and nodes, split links, reconnect links etc.
It has many appealing features like a specific editor for demands, tools to create a model from external data like Excel, SHP files Access and more.
It's an alive project. Expect more to come soon.
It's free. Really, no limitations on how many pipes you can use or something like that.
You can migrate easily from EPANet to WatDis and viceversa. Just go to File > Import > EPANet's .INP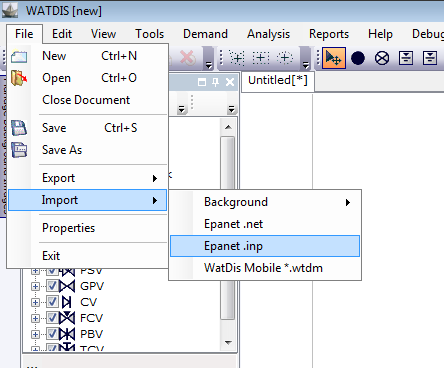 When asked us for a guest post, Elad had a question "Why to develop new software in such a strong market like water distribution systems?"
The answer is simple: WaterCAD , KyPipes and others has a lot of features, but cost a lot of money. In the other hand is EPANet, which is free, is very stable (stable is GOOD) and it has the almighty EPA on its back. Unfortunately EPANet has a few drawbacks, mainly on the graphical interface, almost twenty years old. Also, EPA has no statement about carrying on with the project.
At this point we thought it would be nice to have software that doesn't cost so much money, have a good user interface and lots of features.
Lots of features you said? Well it's not that simple; you need to be a financially strong entity to fund such development. Or… perhaps not, we have a proven secret weapon: The plug-in architecture.
The plug-in architecture
We decided to go for a successful software design pattern known as Plug-in / Framework architecture. This pattern allows us to change over time easily. Adding new features that will not compromise what we already have. Time prove this to be the right choice as WatDis has evolved smoothly since its creation. In fact, from the graphic user interface to the calculation engine, everything in WatDis is a plug-in. Our systems allow even to add even new types of extensions. A "hot thing" we were inspired from successful software like Eclipse.

WatDis allows not only extensions (SIMPLE), but even new types of extensions (EXTENDED). This highly increase the possibilities and power of the system.
 But sharing is the real power of it. How about if this architecture would be released to many people around the world? Have you noticed how many epanet modifications exist out there? There are a lot. From simple language translations to genetic algorithms implementations. If we could gather all this modifications into one piece of software it would be a very powerful one. Unfortunately, this is very difficult to do, when not impossible. The reason is that while EPANet has a toolkit, it is designed to be modified, not to be extended.
Here is when our plug-in architecture comes to play part. WatDis is designed to be extended. We at Transparent Blue extend it every day as the normal development process. To add a new functionality, we simply add a new plug-in.
Think of this architecture in the hands of all the research centers and companies around the world. Sum up and you will end up with lots of features I told you so.
There are many examples of software that use plug-ins architecture. Wekka, 3DStudio Max, AutoCAD and Eclipse are success histories, just to mention a few.
I'm just puzzled that it hasn't happened in this field.
WatDis as a business opportunity/Research platform
Let me carry on with plug-ins. This time we are going to look at this from the developer's perspective. Suppose you are a small company / research center. Small companies don't have enough funds to go against the big ones (we know it well, when the idea first came up, everybody said we were crazy). Research centers usually have a very small windows of time in which to research (usually time given by governmental project, a Ph.D thesis or similar) not to mention going into prototype and final product.
By having an already made platform on which to base your work the research-prototype-final product cycle would be shortened extremely. Also by joining your product with a bigger package the added value would increase extremely.
We haven't still decided how to do the release of the architecture. It will depend manly on license legal stuff and what kind of funding we can get to carry on with the project. But it's definitively a go.
Others ideas we have in mind is a Python embedded scripting. This will allow users to play with the network and experiment with it new ideas in a very dynamic fashion before going deep into plug-in development. This is a feature we have implemented and would be release only if we have positive feedback for it.
The graphical user interface
We have put a lot of effort in making this a functional an easy interface to use. We have received a lot of positive feedback regarding this topic. We made the software in close contact with engineers using it and it has been an enormous advance.
I would like to share some of our favorite features of WatDis interface:
The In-House Engine. Quality tests
We develop the calculations engine ourselves. We will start looking for a partner to validate our engine eventually. For now, it´s tested against the old faithful friend, EPANet. Our test data base consists in over one hundred (100) .INP files. Many of them where actually real cases the hydraulic engineers of Transparent Blue have worked on. Other sources where public .INP files, also feedback from our users where used. The engine was tested by comparing our results to EPANets results.  Test included, but where not limited to: network validation, calculation's result, control rules and extended and steady modes.
Where we are?
We are very happy with the results of our work. Now we are working intensely on the WatDis stability by increasing the number of automatic tests we do to the software and by seeking validation partners to help us in actually exploiting the product. Unfortunately, not all the parts of the software are as stable as we should like them to be as we add too many features too fast. Nevertheless, this is a work in continuous evolution and every version will gain in features and stability.
The future
The main features we want to add to WatDis include to make the software interact with the cloud; include a module for calibration and keeping enhancing the stability and functionality.
We would like to bring community software into the hydraulics fields. Maintain the project alive and bring new versions every couple month or so. We need funds thou. Future strategies will be conditioned by that. Perhaps going open source and getting fund by development / governmental projects. We will seek partners to achieve this. Personally I´m quite optimistic about the future of WatDis. Time will say.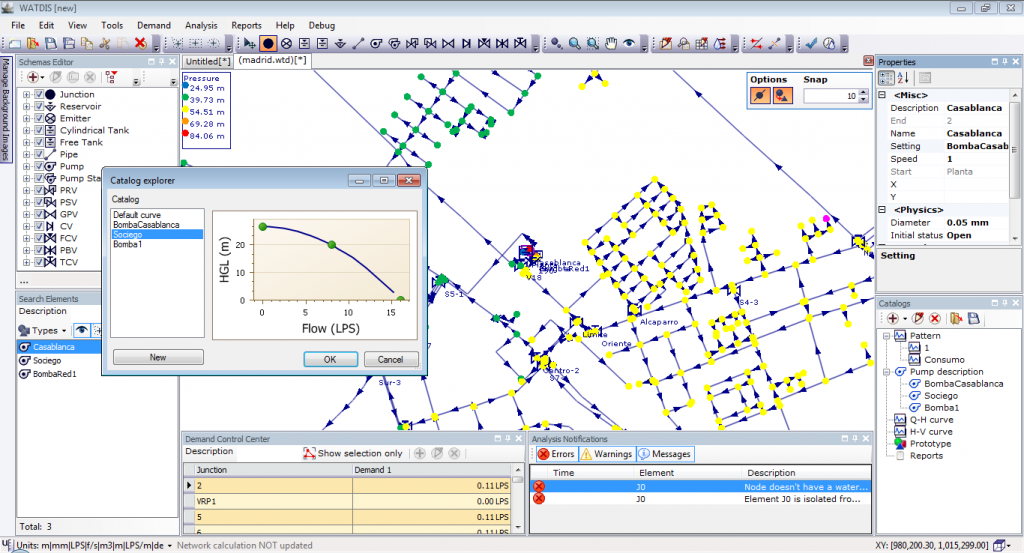 Related posts: