TdhLite
Tim Hirrel sent me his new product release info for Tdhnet:
3 new hydraulic network modeling products have been released and are now available for download. These products are the latest releases in the Tdhnet line of hydraulic network software and represent a major breakthrough in the availability of cross platform hydraulic network models. TdhLite, available as executable files for both the MS Windows and Linux operating systems, provides the essential functions of network modeling with an extremely light footprint. These programs require no external commercial software and can handle networks of significant size even on the highly portable netbooks frequently used today. Please see the related articles, ג€œTdhLite Overviewג€ and ג€œWhy TdhLite Is a Better Choice Than Epanetג€. TdhnetAPI is a breakthrough product providing a highly advanced application program interface for any software needing hydraulic network functionality. Please see the related article ג€œTdhnetAPI Overviewג€. All of these products are now available for downloading from Tdhnet.com.
I always like to see new software in my field but what caught my I is the post titled "Why TdhLite Is a Better Choice Than Epanet". A nice feature is the ability toֲ  pause and examine results at a specified time or interval and also to change data at any specified time during a solution sequence. The user can modify many input parameter, including:
Demand at an individual node and demand factors for all nodes or a group of nodes.
The status of any pipe, pump or valve.
The status of a set of Rules so that different sets of Rules can be in effect during different times of the day.
Any number of Change Sets can be included with a network so the user can easily return to a previous project or objective.
I have download the program and installed it on MS Windows 7 without any issues. I have done only a little of playing around and did not find the program to be very intuitive It is takes a long time to get going and enter just a small network. I imported an INP file from EPANet (Net2) and was able to make a successful run and also pause the simulation at each time interval. I think that Tdhnet needs to mature in its user interface and make the network drawing more intuitive.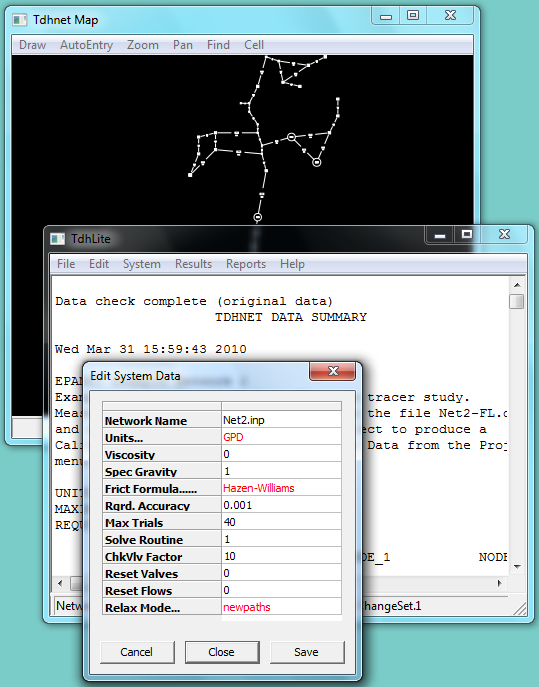 ֲ Update 28/04/2010: Tim just sent me a message with a few pointers:
A couple of features of the map interface may not be immediately obvious, but useful nonetheless. Zooming can be accomplished by rolling the mouse wheel and panning can be accomplished by double clicking the mouse. I have found these features to be a convenient method of navigating a map. Also, by right clicking from pretty much
anywhere, the user can go to any related feature of the model, including elements on the map. Updated versions have already been made available on the website and updates will likely continue with some frequency as feedback is received. Also now available is a document intended to help users experienced with Epanet quickly understand the differences with Tdhnet. This document, UsingEpanetData.pdf, and the user's manuals can be downloaded by following the Tdhnet_Library linkon the Tdhnet.com website.
Update 08/06/2010: a few readers from mainland China reported that the Tdhnet web site is unavailable. I think the reason is that the site is hosted on the Blogger platform by Google. Some Google services are blocked from within mainland China as reported on Google's Mainland China service availability page.
Related posts: