WDSA 2010 – first call for papers
The University of Arizona and the Technion are pleased to announce the 12th Annual Water Distribution Systems Analysis conference (WDSA 2010) to be held September 12-15, 2010 in Tucson, Arizona. (WDSA2010.org)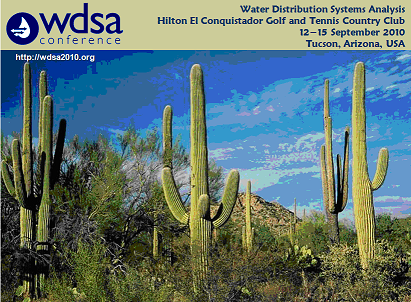 | | |
| --- | --- |
| Milestone | Date |
| First Call for Papers | November 1, 2009 |
| Second Call for Papers | December 1, 2009 |
| Abstracts Due | February 1, 2010 |
| Decision on Abstracts | March 1, 2010 |
| Full Papers Due | May 1, 2010 |
| Preliminary WDSA2010 Program | June 1, 2010 |
| Early Registration | June 1, 2010 |
| Late Registration | July 1, 2010 |
| Final WDSA Program | August 1, 2010 |
| WDSA2010 Conference | September 12-15, 2010 |
Conference venue: Hilton El Conquistador Golf and Tennis Country Club (www.hiltonelconquistador.com)
Themes and Topics
Several emerging areas associated with water distribution will be underscored:
WDS as a microbiological system
Water security
Sustainable WDS design/operation using
the triple bottom line/ Water reuse/dual distribution networks design
Further, a unique holistic perspective of contaminant intrusions including detection, source identification, and response will be highlighted through a series of sessions. We intend to bring together engineers and modelers with sensor developers and utilities to provide better understandings of the issues, needs and
capabilities that can be used to protect consumers. In addition to the theme areas, additional conference themes are listed below.
See conference website for session topics.
WDS as a microbiological system
Contaminant intrusion and water security
Sustainable WDSs
Network Models
Network Vulnerability
Network Hydraulics
Water Use
Network Water Quality
Leakage
Field Work
Asset Management
Mixing and dispersion
Submit an abstract at: http://openconf.engr.arizona.edu/wdsa2010
Contact the organizing committee at wdsa2010@email.arizona.edu
Related posts: