EPANet and Matlab
A visitor that came to this blog from Demetriosֲ Eliades'sֲ web site reminded me of the EPANet and Matlab issue. About 3 years ago I was busy preparing for the Battle of the Water Sensor Networks (BWSN). A few people helped me test and debug the software utilities for the battle. One of them was Philip Jonkergouwֲ from the University of Exeter. One of the methods we used to validate theֲ programs was to independently write the code and compare results. I developed the programs in Visual Basic and Philip used Matlab.
The programs we wrote had to call the EPANet toolkit.ֲ Both of us spent a lot of time setting up the programsֲ to work correctly according to the BWSN rules. When it did work we compared the results, fixed the bugs and the BWSN is history.
Calling EPANet from Matlab is still a task people are looking for help with. Philip postedֲ a Matlab file and shared his experience. Some time later Demetrios publishedֲ an "enhanced modified version" with some technical explanation for beginners.
More information regarding EPANet and Matlab integration can be found by searching the Water Simulation Forum.
I have met Demetrios in August 2006 at the WDSA 2006 and even had a good time. Who said water engineers can't party?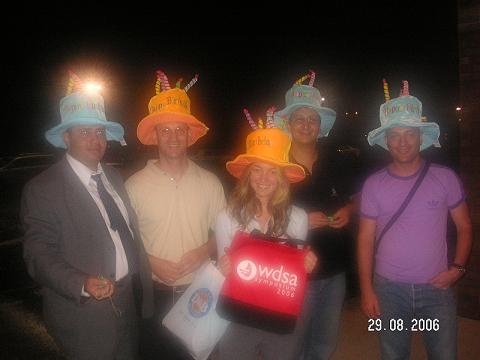 From right to left: Ami Preis, Demetriosֲ Eliades, Lina Perelman, yours truly and a Colombian guy that I can't remember his name.
Related posts: