PCSWMM.NET
PCSWMM.NET, from CHI, is aֲ spatial decision support system for US EPA SWMM 5 urban drainage modeling (sanitary, storm, combined and watershed systems).
From CHI web site:
Built from the ground up around a modern, powerful GIS engine that works seamlessly with the latest GIS data formats, PCSWMM.NET implements advanced, intelligent tools for streamlining sewer collection system model development, optimization and analysis.With full support for the latest, fully dynamic US EPA SWMM5 hydrology/hydraulics engine, PCSWMM.NET provides a scalable (unlimited model sizes), and complete array of professional, enterprise level, urban drainage system modeling tools for an affordable price.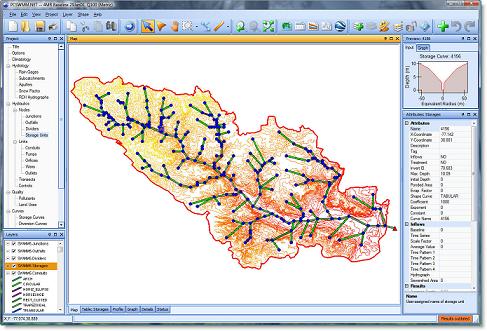 Modelling capabilities:
time-varying rainfall
evaporation of standing surface water
snow accumulation and melting
rainfall interception from depression storage
infiltration of rainfall into unsaturated soil layers
percolation of infiltrated water into groundwater layers
interflow between groundwater and the drainage system
nonlinear reservoir routing of overland flow
handle networks of unlimited size
use a wide variety of standard closed and open conduit shapes as well as natural channels
model special elements such as storage/treatment units, flow dividers, pumps, weirs, and orifices
apply external flows and water quality inputs from surface runoff, groundwater interflow, compute rainfall-dependent infiltration/inflow (RDII), dry weather sanitary flow (DWF), and user-defined inflows
utilize either kinematic wave or full dynamic wave flow routing methods
model various flow regimes, such as backwater, surcharging, reverse flow, and surface ponding
apply priority-based, dynamic control rules to simulate the operation of pumps, orifice openings, and weir crest levels.
dry-weather pollutant buildup over different land uses
pollutant washoff from specific land uses during storm events
direct contribution of rainfall deposition
reduction in dry-weather buildup due to street cleaning
reduction in washoff load due to BMPs
entry of dry weather sanitary flows and user-specified external inflows at any point in the drainage system
routing of water quality constituents through the drainage system
reduction in constituent concentration through treatment in storage units or by natural processes in pipes and channels.
New features:
Scenario analysis

Sub-model creation and model merging

Engineering audits (QA/QC)

Fill in missing data with PCSWMM Calculators

Dual drainage creation wizard

Time pattern creation and load allocation for DWF

Area weighting

Radar rainfall

Visual editors

Dynamic hydraulic grade line plots

Design storm generation

Data importing

Layer reprojection

Scatter plots
Related posts: