Operation Atlas – Poisoning Tel-Aviv Residents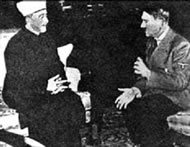 On 1941 the Arab Mufti of Jerusalem Haj Amin al-Husseini met with Adolf Hitler and discussed ways to 'solve the Jewish problem'. Three years later the Nazis and the Arabs of Palestine planned to poison the drinking water in Tel-Aviv with Arsenic poison.
Four years before the establishment of the State of Israel the Nazis and the Arabs of Palestine planned to poison the water of Tel Aviv with Arsenic poison, and only as a result of an early intelligence report by a British spy who was working undercover in the German military intelligence service, the plan was never carried out.
Hezbollah planning to poison rivers that flow into Israel
After the Second Lebanon War on 2006 the Israeli Defense Ministry received some disturbing information concerning the water in Israel. According to the information, Hezbollah is attempting to sabotage the quality of the water in Israel by pouring poison from the Lebanese side of the border to the rivers that flow to the Kinneret (Sea of Galilee).
After an evaluation of the situation a decision was made by the Mekorot Company – a water company that provides 90% of the drinking water for the inhabitants of Israel – and by the Defense Ministry, to put special types of fish into the Snir River, close to the Lebanese border. Each type of fish responds to different types of poisons that could appear in the water. Mekorot is inspecting the activity of the fish from a control room. If something happens to one of the fish it gives an immediate indication that the water is poisoned and by which type of poison. The security of water is not abnormal. Mekorot is taking the same measures in other locations in Israel in order to prevent water poisoning including strategic apparatuses in the south and electronic devices in sensitive areas.
Source: isracast
Related posts: