SimHydraulics 1.0
MathWorks, the makers of Matlab, released a new product that models and simulate hydraulic systems – SimHydraulics.
SimHydraulics extends Simulink with tools for modeling and simulating hydraulic power and control systems. It enables you to describe multidomain systems containing connected hydraulic and mechanical components as physical networks. It provides a representative library of hydraulic components and building blocks that lets you implement other components. SimHydraulics can be used for a variety of automotive, aerospace, defense, and industrial equipment applications, such as modeling automatic transmissions, actuating flight control surfaces, and actuating heavy equipment.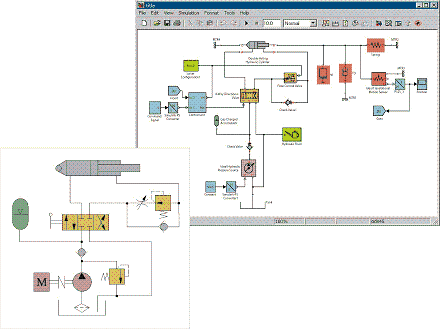 Key Features
Modeling environment for building hydraulic and hydromechanical systems as physical networks
More than 75 hydraulic and mechanical components, including pumps, valves, accumulators, and pipelines
Foundation library of hydraulic building blocks and fundamental mechanical and mathematical elements
Customizable library of common hydraulic fluids
For more information see SimHydraulics web site.
Related posts: