EPANet 3
During the WDSA2010 conference, held in Tucson AZ, Lew Rossman gave a sneak peek into the future version of EPANet. It might be called 2.1 or 3.0 and it scheduled to be released probably next year. This will be the last release of EPANet by the US EPA! The following writeup is based on Lew's paper and presentation.
Enhancements to the computational engine
The simple Euler scheme used in EPANET 2.0 to update tank levels independently of each other between the time steps of an extended period simulation is being replaced by Todini's recent extension to the Global Gradient algorithm. This produces a much more stable solution for water levels in hydraulically coupled tanks without having to revert to very small time steps.
The flow-based convergence criterion used to solve the network hydraulic equations is being replaced by a head-based one. This will provide higher accuracy in satisfying the head loss equation for each pipe once a solution has been found.
To avoid the hydraulic solution matrix from becoming ill-conditioned when there are zero-flow or low resistance pipes EPANET 3.0 employs the simple regularization scheme suggested by Elhay and Simpson to adjust very low gradients of head loss with respect to flow.
Two options are being concidered as replacements for the 1980's vintage sparse matrix solver used in EPANET 2.0.
A pressure-deficient hydraulic analysis can be run using Todini's three-stage approach to identify nodes where there is insufficient pressure available to meet required demands and to determine the actual demand that can be delivered at the available pressure. This option avoids the negative pressure results that can sometimes occur when running a standard hydraulic analysis.
Pressure-dependent demand analysis is being added as another option in EPANET.
An Altitude control valve (ACV) is being added to the types of control valves that EPANET can model. The "setting" parameter for this type of valve is a user-supplied curve that determines the valve's head loss coefficient as a function of distance below full depth.
Cubic polynomials can now be used for pump head and efficiency curves and pump efficiency curves and power calculations can now be scaled for pump speed.
Users can define both regular and irregular time patterns for altering demands and controlling pumps and valve settings within extended period simulations. Each regular time pattern can have its own time period while irregular patterns can use a set of variable periods that change over time.
Enhancements to the water quality calculations
The equations developed by Sandia National Laboratories (Ho and O'Rear) that model incomplete mixing at 4-way junctions are being incorporated as an option in EPANET 3.0.
Longitudinal dispersion of solutes within the bulk flow under laminar flow conditions (Axworthy and Karney) is being added to EPANET's transport equations. This will necessitate switching the laminar flow pipes from using variable-sized volume segments to uniform-sized ones, reminiscent of the Discrete Volume Element method used back with EPANET 1.1.
The reaction and transport phases of the water quality computations will be handled using parallel threads to take advantage of the multiple core processors available on today's personal computers and thus provide a significant computational speed-up. Using parallel threads shows a decrease up to 50% in running time with 8 cores.
Several additional single species reaction mechanisms are being added to those already contained in EPANET. These include: dissolution reactions, temperature modeling, source-weighted reaction coefficients.
Programmer's Toolkit
Additional functions are being added to the EPANET 3.0 Programmer's Toolkit. These include functions that allow one to work with a node's demand categories, allow one to retrieve the water quality within a link, and determine if a portion of the network is disconnected from any water source or if any two nodes are connected through a path of open links.
Windows graphical user interface
The interface for EPANET 2.0 was written in Delphi. To enable greater access for interested third parties to review and modify the EPANET GUI it was decided to re-write it in a language for which free compilers and other development tools are available. A prototype was written in Java which is platform independent as can be seen in the following image that shows EPANet 3.0 under Ubuntu Linux. C# .NET is also being considered as an option for the GUI.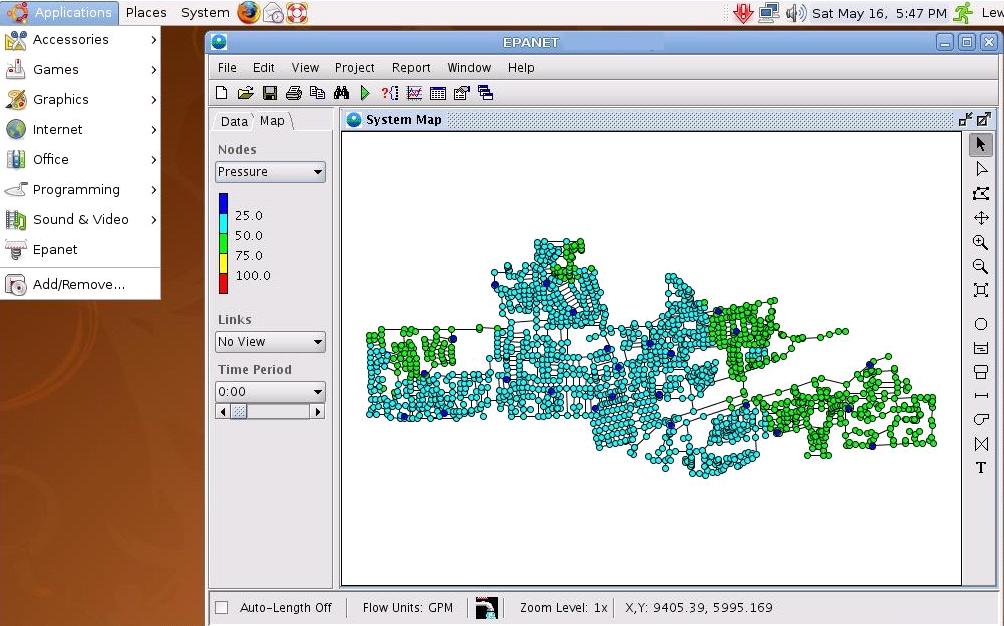 The EPANET 3.0 GUI will also provide for a linkage with the EPANET multi-species modeling extension. A new option that might be implemented is the option to insert pumps and valves as nodes rather than links. This option will be of interest to those how use GIS data to build hydraulic models.
Related posts: