From Boss International web site:
StormNET Builderג"¢ is the most advanced, powerful, and comprehensive stormwater and wastewater modeling package available for analyzing and designing urban drainage systems, stormwater sewers, and sanitary sewers. StormNET Builder is the only model that combines complex hydrology, hydraulics, and water quality in a completely graphical, easy-to-use interface. Both imperial and metric (SI) units are supported.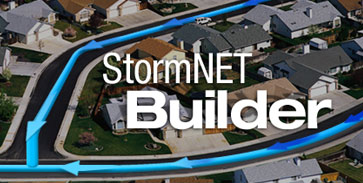 Network Analysis Components
Watershed subbasins
Inlets & catchbasins
Detention Ponds
Complex outlet structures
Standpipes, weirs & orifices
Stormwater & wastewater sewers
Pumps & lift stations
Manholes & junctions
Rivers, streams & ditches
Culverts & bridges

Hydrology Modeling Capability
Time-varying rainfall
Evaporation of standing surface water
Snow accumulation and melting
Rainfall interception from depression storage
Infiltration of rainfall into unsaturated soil layers
Percolation of infiltrated water into groundwater layers
Interflow between groundwater and the drainage system
Nonlinear reservoir routing of overland flow
Hydraulic Modeling Capability
Handle networks of unlimited size
Use a wide variety of standard closed and open conduit shapes as well as natural channels
Model special elements such as storage/treatment units, flow dividers, pumps, weirs, and orifices
Apply external flows and water quality inputs from surface runoff, groundwater interflow, rainfall-dependent infiltration/inflow, dry weather sanitary flow, and user-defined inflows
Utilize either kinematic wave or full hydrodynamic wave flow routing methods
Model various flow regimes, such as backwater, surcharging, reverse flow, and surface ponding
Apply user-defined dynamic control rules to simulate the operation of pumps, orifice openings, and weir crest levels
For more information see StormNET web page.
Related posts: